Home » Nutrition » Meal Prepping » 5 Tips For Quick and Easy Meal Prep
View Our Product Selection Process.
Meal prepping is a fun and easy way to stay on track with eating real food. The most challenging times are when everyone is hungry and there's nothing ready to eat. Convenience foods work their way into your diet simply because preparing them is quick and easy. It's time to get off the fast-food rollercoaster and start meal prepping! Your health and wellness depend on it.
5 Tips For Quick and Easy Meal Prep
1. Join a CSA
You can save a significant amount of time and effort at the grocery store by joining a Community Supported Agricultural (CSA) project. A CSA allows consumers to subscribe to local farm harvests. This is perfect for meal prep. CSAs offer freshly picked, local, organic fruits and vegetables delivered right to your door. Choose the amount of produce you want and have it delivered weekly. Produce shopping is done and you didn't step foot in the grocery store. CSA produce is fresh off the vine so you'll receive the best of what's in season each week. Schedule your delivery for the day before you regularly meal prep so you're sure to have everything on hand for cooking day.
2. Join a local meat delivery program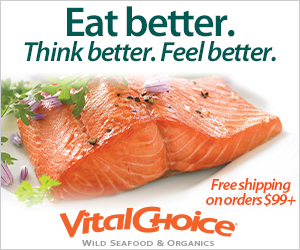 Access to quality grass-fed meats and sustainably caught seafood is getting easier all the time. You can skip the grocery store by having top-quality meats and seafood delivered to your door regularly. If you don't have a local delivery service available, there are nationwide delivery programs that procure meat and seafood from reputable sources. You can schedule regular deliveries of quality top sirloin, ground beef, chicken, seafood, pork, just about any type of protein. Stash your meats in the freezer to eliminate another trip to the grocery store.
Get 5% off Vital Choice Seafood and free Shipping On Orders $99+ Using Code: VCAF5 At VitalChoice.com. Shop Here!
3. Invest in a quality set of stainless steel cookware
If you're like many busy people, cooking is the last thing on your mind. You might not even have any decent cooking equipment, which makes the whole endeavor more difficult than it really is. A wayward wooden spoon and a beat-up chemical-coated non-stick pan won't get you very far. A quality set of stainless steel pots and pans with lids will last a lifetime. We've used this Cuisinart 8-Piece Stainless Steel Cookware Set for over 15 years and it still looks new.
With proper cleaning, stainless steel is one of the best non-stick surfaces around. Add a Lodge Cast Iron Double Dutch Oven with Lid to your collection and cooking is a breeze. You might even find out that cooking really is enjoyable if you're equipped for the task.
4. Stock up on storage containers
Meal prepping allows you to concentrate a week's worth of cooking into a few hours. By cooking in bulk, you'll have fresh vegetables and quality protein ready for last-minute meals and snacks. You'll need some quality storage containers to stash all of your fresh ingredients. A variety of zip-top bags, jars, and sealable glass bowls are a great start.
5. Change your mind
You can turn everyday chores into fun activities by changing your mind. In doing so, you can encourage change in those around you. A lot of activities in life can seem like mundane chores, especially for kids. Many people consider laundry and dishes and cooking to be extra burdens in already hectic lives. Make these tasks fun by thinking positively about them. Rather than trudging through them in irritation so you can move on to the next task, relax and get into the moment. Equip yourself with the right tools, turn on some fun music, have a glass of wine, and enjoy what you're doing. If you're having fun, kids will want to join in. Now you're teaching healthy life skills while enjoying some family time.
Quick and easy meal prep is one of the cornerstones of a fit life. When you focus on eating real food, meal prep becomes part of your weekly routine. You can fill your fridge with good things in less time and with less effort than you think. These 5 tips will get you rolling. Stay on your roll by completing the Roxy Fit Club 30 Day Real Food Challenge. Change your diet, change your life!